Dental Implants in Niagara Falls Ontario
If you are self-conscious because you have missing teeth, wear dentures that are uncomfortable, or don't want to have good tooth structure removed to make a bridge, talk to your dentist to see if dental implants are an option for you.
Dental implants are a popular and effective way to replace missing teeth and are designed to blend in with your other teeth. They are an excellent long-term option for restoring your smile. In fact, the development and use of implants are one of the biggest advances in dentistry in the past 60 years. Dental implants are made up of titanium and other materials that are compatible with the human body. They are posts that are surgically placed in the upper or lower jaw, where they function as a sturdy anchor for replacement teeth.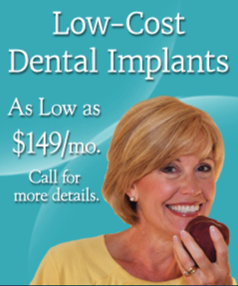 Most patients find that a dental implant is secure, stable and a good replacement for their own tooth.
Questions About Dental Implants?
Contact Our Niagara Falls Dental Office
Located near the beautiful My Care Dental, our dental practice can be conveniently reached by those traveling from areas surrounding Ontario. Got a toothache, want to discuss alternatives to braces, or need to schedule teeth cleaning? Why wait any longer - Give us a call or make a dental appointment online today!